Post by whollygoats on Jan 22, 2019 0:18:44 GMT
Thanks to thoughtful gifts from a friend, Cleo is now over the moon.
Where she once had a fading feather toy in the front room with which she could torment her human to play with her.
Well, now, not only is there one in the front room, there is another in the library.
And, wait...there is yet a third on the dining room table in the front room.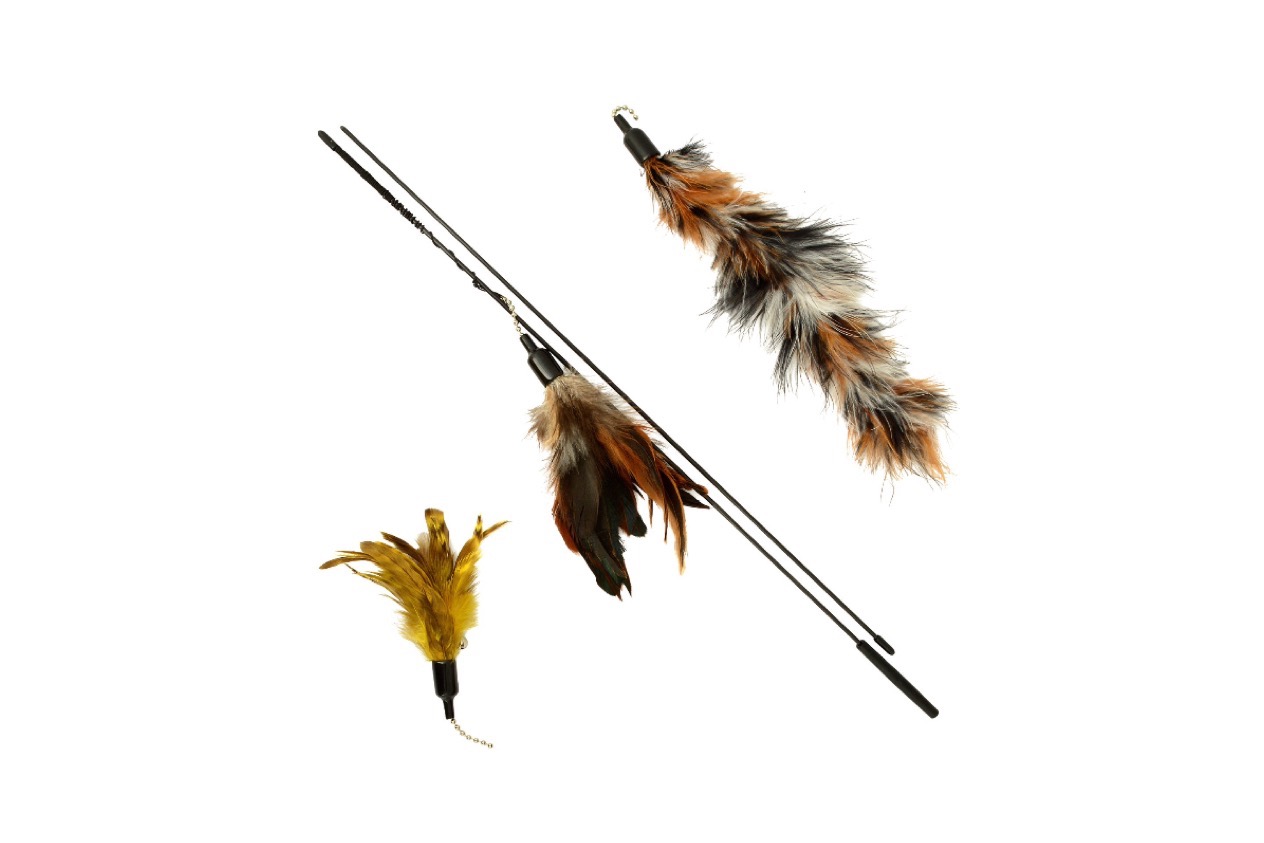 Cleo found the new one in the library and has been trying desperately to reteach the stupid forking human that since he now has TWO feather toys, he should double the time (inadequate already) that he spends playing with them with the feather toys. She will not accept that it is affixed in the bookcases high enough to bat around, she KNOWS that the staff human makes it work so that it is far more entertaining to play with. Evidently, Murray agrees.
Murray likes to watch, mostly. But he surprised me today. I had just assembled the new pole and lure by attaching the lure at the exposed metal swivel which is connected to a small plastic cup which serves as the base in to which a clutch of feathers is permanently inserted. It's like a tiny shuttlecock on a string. The plastic and metal connector provides weight at the end of the line and, when it hits a hard surface, it clinks. The plastic rod pole is the source of resilience and its resistance to the weight at the end of the line creates the bounce of the lure. So, once assembled, and with no cats in the room, I thought to entice them with the distinctive sound of the lure hitting the hardwood floor in the front room. Cleo was in the library down the hall, and Murray was upstairs asleep on the bed. Murray made it there first....That guy has excellent hearing. I am going to designate him my hearing ear cat.
Still, Murray can be intimidated by my using the lure assertively, dangling it in front of his face too insistently, or flashing it too close to his head, he will retire and watch from a distance. Not so with Cleo. Once she sights that feather under my control, she is ALL OUT. She lurks, pouncing out like a moray eel...my fur eel. She leaps twice her body length in the air to snag it and bring it down where she can maul it. I can slap her with the lure, poke her with the pole, whatever, she doesn't care. She fights back. And, she knows the lure is attached by a string and she can scoop the string to bring her the toy...my yardshark....she is demanding I spend more time playing with the feather toys.